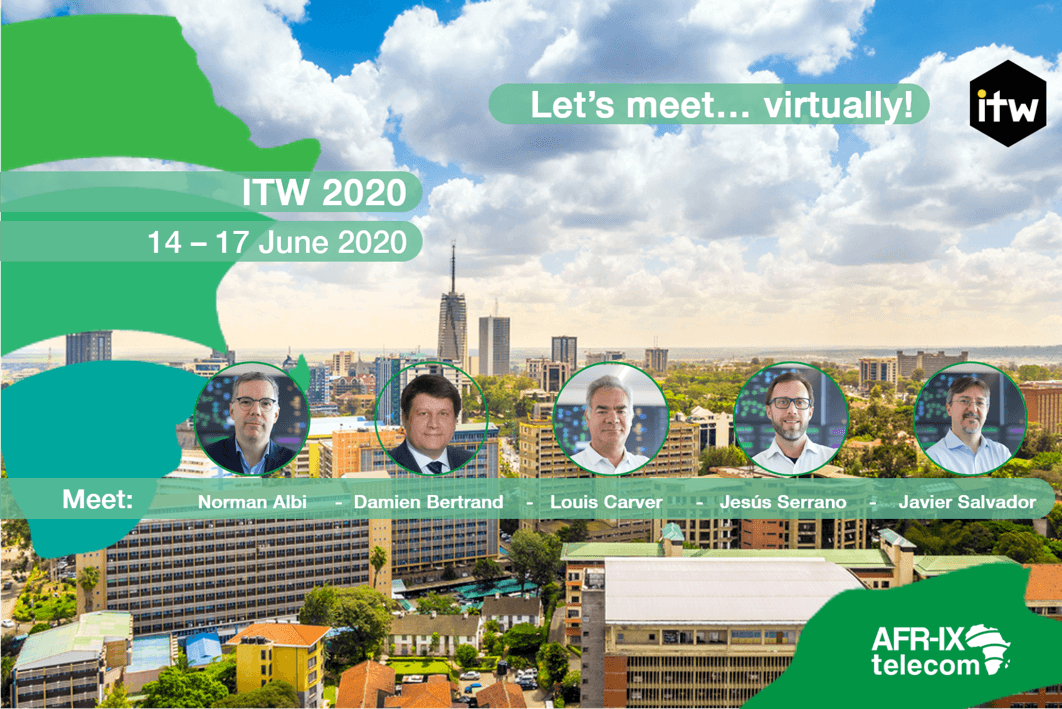 Let's meet at ITW… virtually!
International Telecoms Week is the annual meeting for the global wholesale telecoms industry, providing this year a platform for 7,000+ delegates from more than 130 countries to meet together online, network, to attend to conference sessions and roundtable discussions. In challenging times, community is more important than ever. Recent months have shown that the need to stay connected both personally and professionally has never been greater. In order to keep the world connected, ITW 2020 is going virtual.
ITW is presented this year under the title #KeepingTheWorld Connected and it is structured into thematic days, covering topics like Keeping the World Connected, The Future of the connectivity industry, Connectivity Around the World and Keeping the Community Together.
ITW2020 is also offering this year some virtual social activities like yoga, HIIT or Community Quiz.
AFR-IX telecom, as every year, will be attending ITW's first fully virtual event from June 15th – 18th. Norman Albi, CEO, Javier Salvador, Marketing Director, Louis Carver, CCO, Jesús Serrano, Business Development Manager and Damien Bertrand, Northern Africa Sales Manager will be attending at the show.
If you are attending to ITW2020 and want to know how we can help you, send an email to booking@afr-ix.com and arrange a meeting with the team. They are already on the platform!