Colocation for Content Delivery Networks
AFR-IX telecom provides the required infrastructure to create a Content Delivery Network (CDN) with more than 50 POPs strategically placed, geographically distributed, and connected via private backbone throughout Africa.
These POPs work together to provide fast and reliable delivery of Internet content
The goal of a CDN is provide high availability and performance for the delivery of cached objects (graphics, scripts), downloads (software files, documents), live and on demand streaming content, and applications (financial, e-commerce). CDNs also provide services such as content acceleration, load balancing, content security, DDoS, and WAF.
The popularity of CDN services continues to grow, and today the vast majority of web traffic is served through CDNs, including traffic from major social media, entertainment, and e-commerce sites like Facebook, Netflix, and Amazon.
Backbone & Data Center Services
Direct connectivity to over 300M + users in Africa.
50+ POPs inter-connected to AFR-IX global private backbone covering EU, LATAM, and North America.
140ms round trip latency to North America from Africa.
Redundant power and connectivity in POPs.
Regional and local support provided by highly qualified network team that includes Cisco certified engineers.
Trusted network provider in Africa for important international companies.
Full Cisco SDN backbone Network.
All services under one simplified contract process.
Content Delivery Network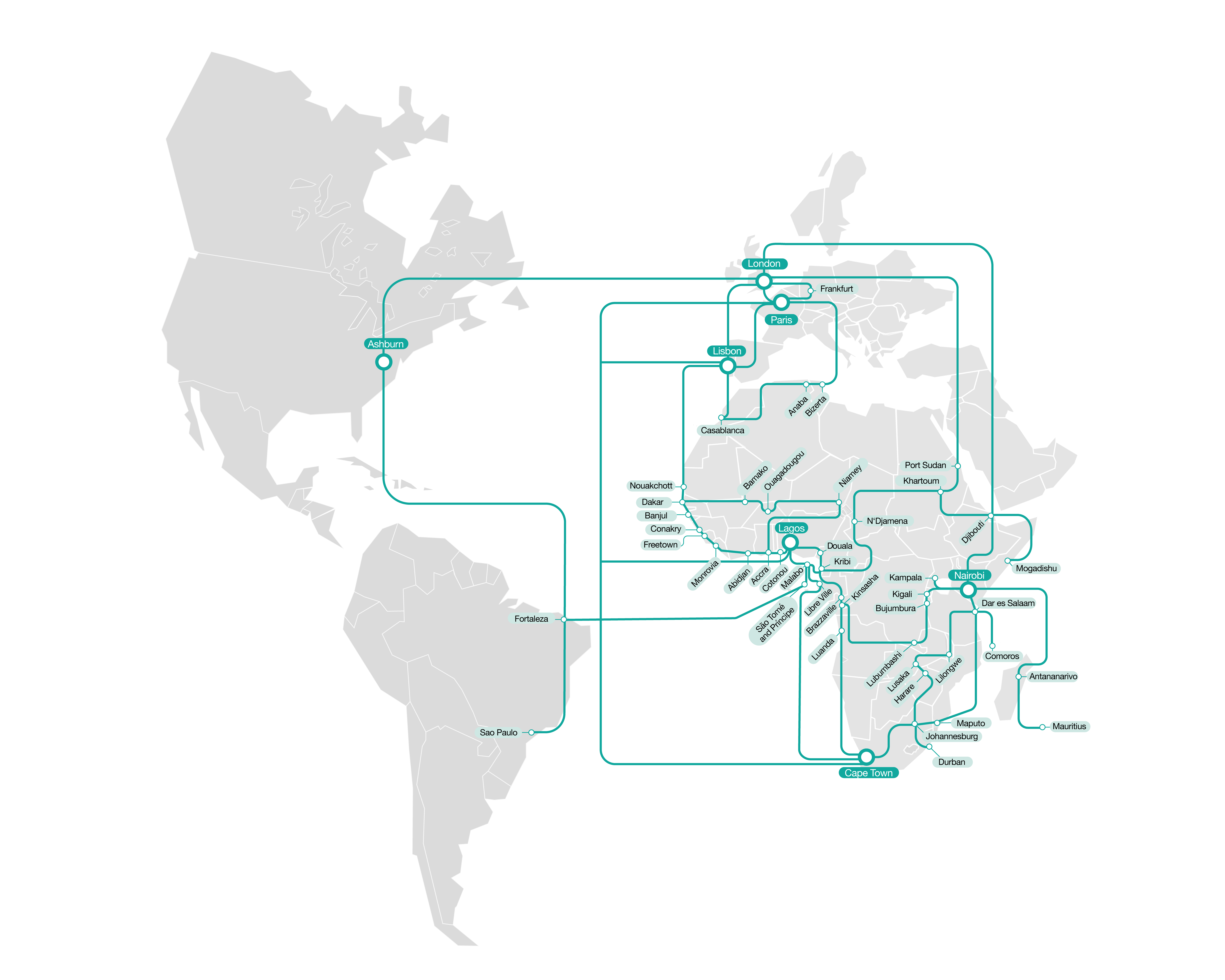 Europe
Lisbon, Portugal
Paris, France
Frankfurt, Germany
London, UK
Africa
Lagos, Nigeria
Nairobi, Kenya
Cape Town, South Africa
Central Africa
N'Djamena, Chad
Kinshasa, DRC
Lubumbashi, DRC
Douala, Cameroun
Kribi, Cameroun
Bata, Equatorial Guinea
Malabo, Equatorial Guinea
Libreville, Gabon
São Tomé, São Tomé & Principe
Pointe Noire, Congo
Brazzaville, Congo
Luanda, Angola
South Africa
Johannesburg, South Africa
Durban South Africa
Capetown Teraco, South Africa
Maputo, Mozambique
Europe
Lisbon, Portugal
Frankfurt, Germany
London, UK
Paris, France
West Africa
Cotonou, Benin
Ouagadougou, Burkina Faso
Abidjan, Ivory Coast
Accra, Ghana
Conakry, Guinea
Monrovia, Liberia
Niamey, Niger
Nouakchott, Mauritania
Bamako, Mali
North Africa
Casablanca, Morocco
Skikda, Algeria
Bizerte, Tunisia
Port Sudan, Sudan
Khartoum, Sudan
East Africa
Antananarivo, Madagascar
Mauritius, Mauritius
Moroni, Comores
Kigali, Ruanda
Kampala, Uganda
Bujumbura, Burundi
Lilongwe, Malawi
Mombasa, Kenya
Lusaka, Zambia
Dar Es Salam, Tanzania
Harare, Zimbabwe
Djibouti, Djibouti
Mogadishu, Somalia