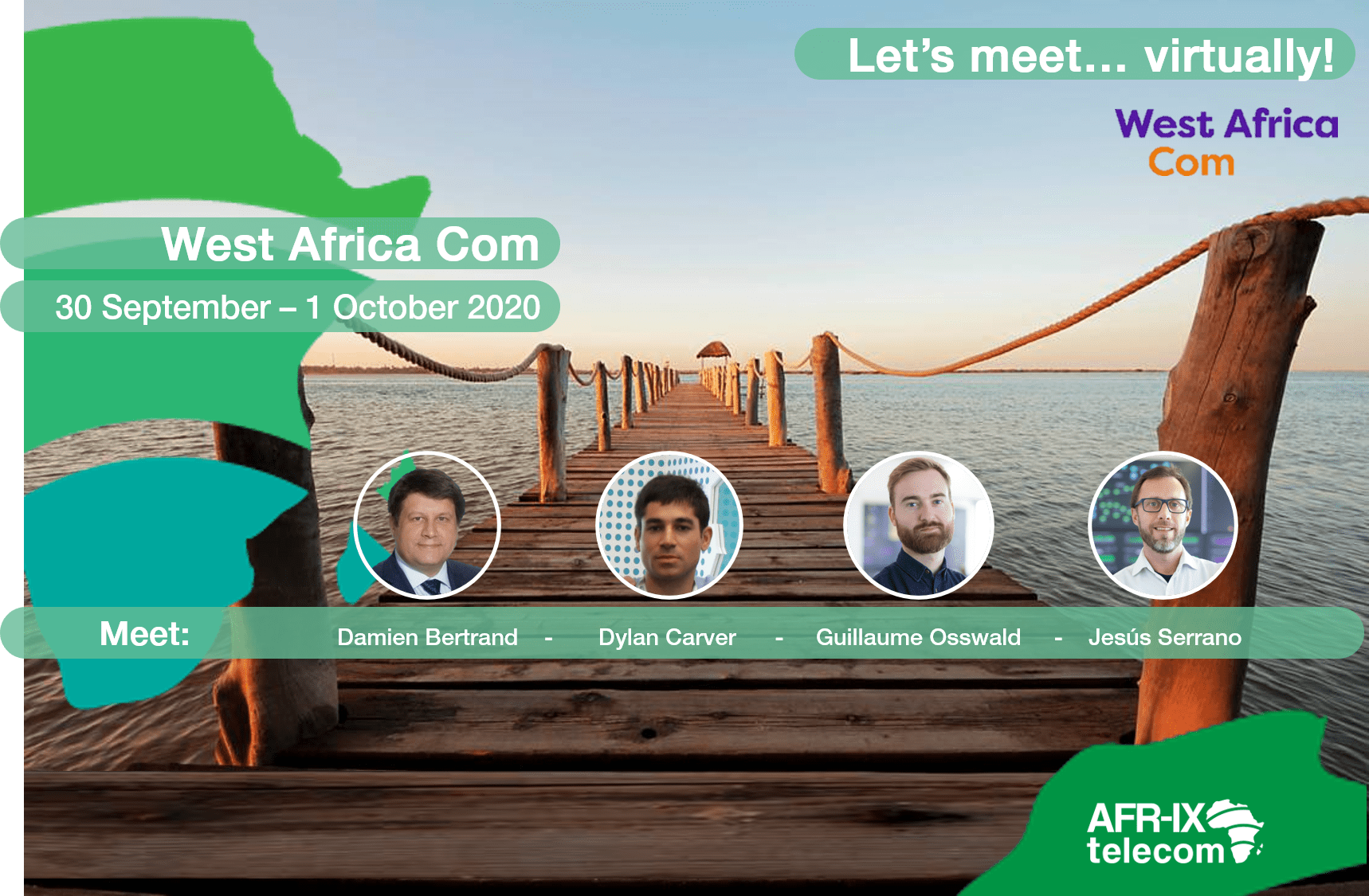 AFR-IX telecom, that delivers IP Transit and Data MPLS solutions to local sites in Africa, is attending West Africa Com and Nigeria Com virtually. The events are taking place on the 29th (Nigeria Com) and 30th September and 1st of October (Nigeria Com). These events that were taking place in Lagos and Dakar were forced to change format due to the global pandemic.
Representatives Damien Bertrand, Northen Africa Sales Manager, Dylan Carver, Account Director, Guillaume Osswald, Global Account Manager, and Jesús Serrano, Business Development, will be attending to both events.
Nigeria Com
Nigeria Com connects more than 650 professionals like senior-level executives from across the continent with international partners in order to establish new business opportunities and connections.
This year, Nigeria Com will talk about Nigeria's digital transformation, the local market, satellite solutions for rural connectivity, etc.
West Africa Com
West Africa Com that was taking place in Dakar, must move to a fully virtual event for 2020. West Africa Com that every year achieves to attrack more than 60% of operators will be speaking about different topics like smart cities, digital skills gap, infrastructure for a more connected Africa, etc.
About AFR-IX telecom
AFR-IX telecom is an Internet service provider that delivers Internet and data services to Enterprises, International Carriers and Telecommunication Operators in Africa and offers connectivity solutions to more hundreds of clients. 
Our solutions include MPLS, DIA, IPLC, Managed services & Colocation, IP Transit, DDoS Shield, Cloud Services & IaaS, SD-WAN, etc. Therefore, we can deliver qualitative services to a market in economic expansion.
If you are as excited as us to be attending the conferences, send an email to booking@afr-ix.com and arrange a meeting with the team.